Combi 185 compact service unit - heat recovery ventilation, space heating and 185L of hot water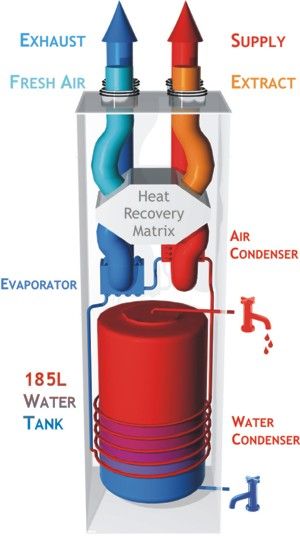 The Genvex Combi 185 system provides balanced whole house ventilation, incorporating a high performance counter-flow heat exchanger to recover the heat otherwise lost via the exhaust air. This negates the use of trickle vents, preventing cold draughts from being drawn into habitable rooms.
It is particularly well suited to highly insulated homes (up to 120sqm) with a small heating and domestic hot water demand, typically up to three-person ocucupancy.

The Combi 185's integrated air source heat pump prioritises the production of domestic hot water and will provide space heating when the 185 litre cylinder has been fully charged. The heat pump is able to produce about 380 litres of hot water every day.

In well insulated homes, some of our clients have found that there is no need for additional heating except a heated towel rail in the bathrooms and in the winter months, a wood-burning stove.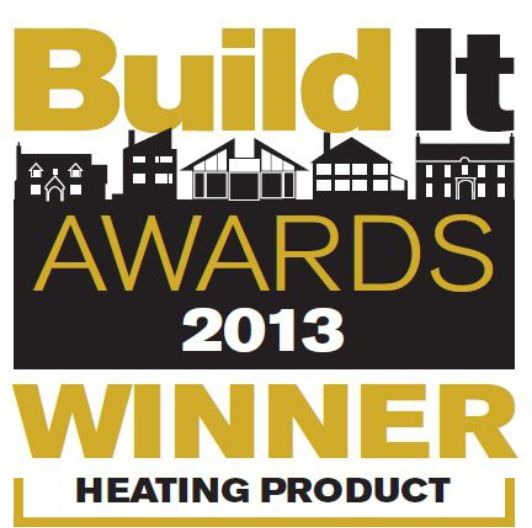 This appliance takes up just 600 x 700 mm (the space previously occupied by a hot water cylinder) and has a low servicing requirement. The heat recovery matrix is 95% efficient and the hot water cylinder can be connected to a second heat source such as solar panels. A pollen filter is fitted as standard on the supply air to the house.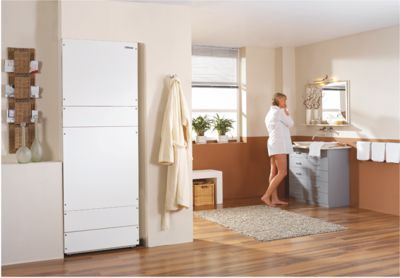 The Combi 185 is Passivhaus Certified and won the Build It Best Heating System award in 2013.
There are two different versions of the appliance, the difference being the size of the compressor. The Combi 185 S is suitable for the smaller apartments/townhouses where lower ventilation rates are required.
living area


(m2/sqft)

airflow (m3/h)

pressure


Combi 185 S

(

spec sheet

)

120 / 1,292

100 / 350

125

Combi 185 LS (spec sheet)


292 / 1,292

150 / 350

125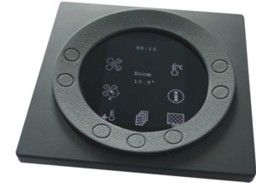 An attractive, easy to use and comprehensive Optima 310 Design Controller is included with the appliance for ultimate controllability of your system.
Some of the benefits of this superior controller include:


fan speed control
24/7 timer
room temperature setting
past analytical data card
filter maintenance alert
intake/extract/supply/exhaust air temperature operating information
boost control
Send us floorplans to get a quote, or ask to have a room-by-room heat loss calculation completed so that you can decide whether this unit is suitable for you and your home.